Mongolia gets rail project on track
By William MacNamara in London
Source: FT
Mongolia, a resource-rich country lacking roads or rail, has taken its first step in building the infrastructure required to be a leading commodities exporter, after it approved construction of more than 5,000km of railways.
Provisional plans for an "east-west" rail network have been passed unanimously by Mongolia's parliament. Sukhbaatar Batbold, the ex prime minister, confirmed to investors a conference in Hong Kong that the railway project was moving ahead.
One purpose is to connect the necklace of resource deposits that extend along Mongolia's southern perimeter in the south Gobi desert. Many of the deposits - including Rio Tinto and Ivanhoe Mines' world-class copper project at Oyu Tolgoi - are less than 200km from the Chinese border.
Mongolia is emerging as one of the world's premier frontiers for copper, coal, gold, and iron ore. Its proximity to China, the world's biggest consumer of many raw materials, is a huge advantage along with the sheer volume of metals beneath its grasslands.
But it remains one of the world's most remote places, and the country's lack of basic infrastructure has undermined its prospects. The Soviet-built Trans-Mongolian Railway is the only large rail artery in the semi-nomadic country of fewer than 3m people.
However, Mongolian leaders have released no estimates of project costs. One prominent investor in Mongolia said the railway would require "a serious bond." In translated documents seen by the Financial Times, the government committed itself to finance and build the railways itself. But it also aired the possibility of public-private partnerships that could be lucrative for international infrastructure contractors.
The plans feature six rail lines totalling 1,800km starting construction this year. That should be followed in 2011 by an additional project totalling 1,400km of track. After 2015 an additional 2,000km of rails are due to start construction.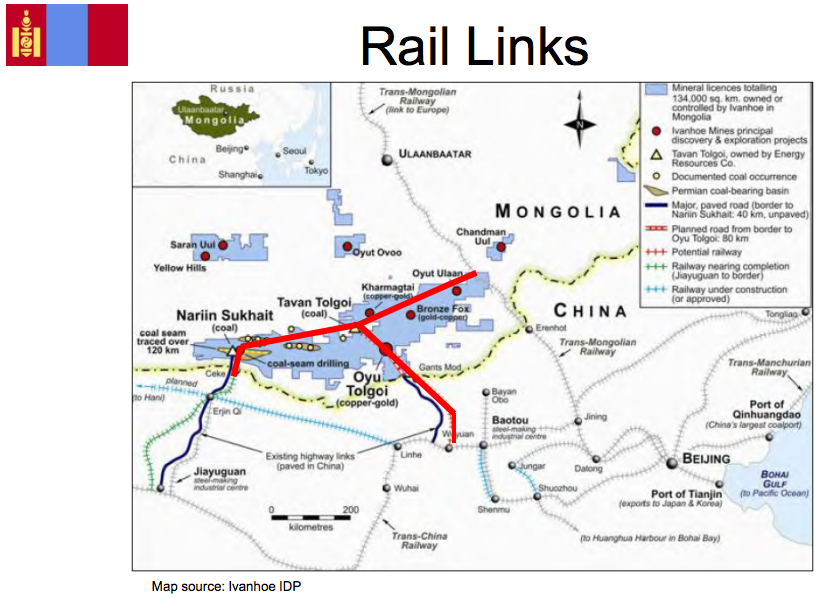 Mongolia's vast infrastructure-building needs also extend to electrification and road-building. The costs stand to strain an economy of relatively minuscule output that is fragile after the global financial crisis. The crisis burst bubbles in the banking, real estate, and construction industries after the collapse of global commodities prices undermined speculators' expectations. Last year the International Monetary Fund extended a $230m loan to the country that is still being disbursed.
But in the past six months Mongolian leaders have been touring financial centres such as London, attempting to assure investors that a new, technocratic, and multi-party leadership has a blueprint for developing the country. Plans include partial privatisation and flotations of many state-owned resource assets. Mongolia's investment case has gained credibility since the signing of the Oyu Tolgoi investment agreement last October. After years of debate and controversy, the copper-gold project was approved by the government and mining company developers Ivanhoe Mines and Rio Tinto.
In Hong Kong, Mr Batbold told reporters that Hong Kong was the "natural choice" for Mongolian companies to raise money because it was the best gateway to China, Mongolia's biggest trade partner.
The rails will be Russian gauge. Executives in the Mongolian mining industry said in January an "east-west" railway was controversial and making headlines in part because of a debate over gauge and its political implications. The country's foreign policy balances the interests of powerful neighbours Russia and China. China uses a different gauge, meaning Mongolian trains carrying commodities exports will need to pause at the border and change their chassis.
Additional reporting by Robert Cookson in Hong Kong and Jamil Anderlini in Beijing
Samsung C&T Wins $483 Mil. Project to Build Railway in Mongolia
SEOUL, KOREA - Samsung C&T said on May 8 it has signed an agreement to build a 217-kilometer railway in Mongolia commissioned by the Railway Authority of Mongolia.
Samsung C&T is the sole contractor to implement the US$483-million project. The project calls for installing a railroad line connecting Tavan Tolgoi coal mine, 540 km south of the Mongolian capital Ulan Bator, and the China-Mongolian borders, as well as building a rolling stock depot.
A Samsung C&T official said, "We were given high marks for our ample experience in railroad projects, excellence in technological prowess, and best construction time schedule. With the latest project, we are in an advantageous position to win additional projects in Mongolia related to resource development."
Samsung C&T entered the Mongolian construction market in May last year with a $273-million project to build Shangri-La
Hotel in
Ulan Bator. This is a third project for the company following a $56-million project to build the MCS Tower last June.